Carlton, Holton deliver pitching gem as 'Noles drop Rams, 8-1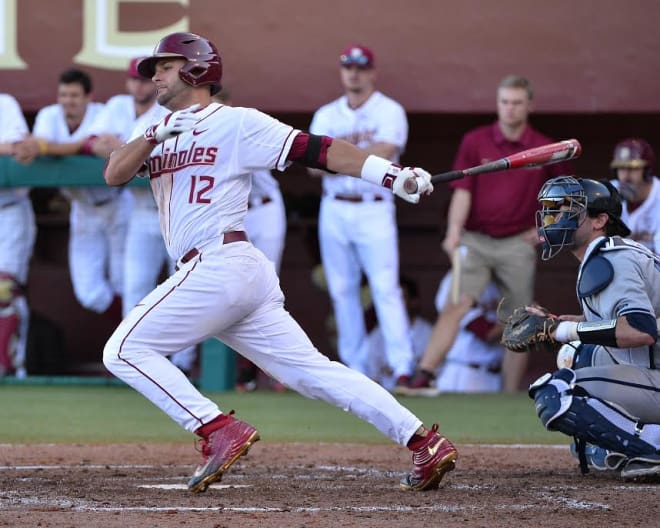 Sign-up for Warchant.com and get the best coverage of FSU recruiting and athletics (30-day free trial offer!)
Box Score: FSU 8, Rhode Island 1
Sophomore starter Drew Carlton and freshman reliever Tyler Holton combined on a masterful pitching performance Saturday, leading the Florida State baseball team to an 8-1 victory against visiting Rhode Island.
Carlton (1-0) allowed five hits and one unearned run in five innings, while Holton pitched four scoreless innings to end it and pick up a save in his first college appearance. Holton, a former Tallahassee-Lincoln star, retired the first nine batters he faced.
FSU was led offensively by third baseman John Sansone, who gave the Seminoles a 4-1 lead in the third inning with a two-out grand slam. Sansone, right fielder Darren Miller and shortstop Taylor Walls each went 2 for 4.
FSU (2-0) and Rhode Island (0-2) will finish the three-game series Sunday at 1 p.m.
------------------------------------------------
Here is the release from FSU:
John Sansone smacked his second career grand slam while Drew Carlton and Tyler Holton combined for a six-hitter to lead Florida State past visiting Rhode Island 8-1 on Saturday afternoon on Mike Martin Field at Dick Howser Stadium.
Sansone, who was 2-for-4 at the plate, finished with four RBIs and one run to highlight the top half of the Seminoles' order. Teammate Cal Raleigh (1-2) was responsible for two RBIs, while Darren Miller (2-4, 1 run) and Jackson Lueck (1-1, 1 run) added one each as Florida State improved to 2-0 on the season.
Carlton notched his first win of the season after striking out six Rhode Island hitters. He pitched five complete innings and scattered five hits, allowing multiple hits in only the fifth inning, while walking two Rams hitters.
Holton earned his first collegiate save after holding Rhode Island to one hit and one walk in four innings of work. The freshman hurler struck out six batters, including Mike Corin, Jordan Powell and Mike Foley in order in the sixth inning, his first on the mound.
"Sansone's home run was huge because we had struck out the hitter before that for the second out of the inning," said head coach Mike Martin. "Two-out hits win ball games and Sansone delivered big for us, which is something that he's worked very hard at with Mike Martin Jr.
"Carlton and Holton gave us every opportunity to win today," added Martin. "When you hold the other team to one run, that's what it's all about. Both of those young men pitched extremely well."
Rhode Island (0-2) scored the first run of the game in the third inning when Connor Foreman reached on an error at second base. Two batters later he crossed the plate with a Martin Figueroa double into centerfield.
Florida State quickly answered when Taylor Walls led off the bottom half of the inning with a double to right field. Both Lueck and Ben DeLuzio drew walks, loading the bases with Sansone at the plate. The senior responded by lifting the first pitch over the fence in right-center for a home run.
The Seminoles extended the lead to 5-1 in the fifth inning on a sacrifice fly to left by Raleigh, bringing home Matt Henderson from third.
Three straight singles in the bottom of the sixth by Dylan Busby, Miller and Walls, one of which scored Busby from second, pushed the Florida State lead to 6-1. Two batters later the lead grew to six, following a sacrifice fly by Lueck.
The final Florida State run came in the seventh on a hard single back up the middle by Raleigh, who again scored Henderson from third.
The two teams complete the three-game series on Sunday at 1 p.m. Florida State will send freshman right-hander Cole Sands to the mound, while Rhode Island is set to start right-hander Ben Wessel.
-------------------------------------------
Talk about it with fellow 'Noles on the FSU Baseball Forum.