FSU's bats explode in 19-1 Opening Day victory over Rhode Island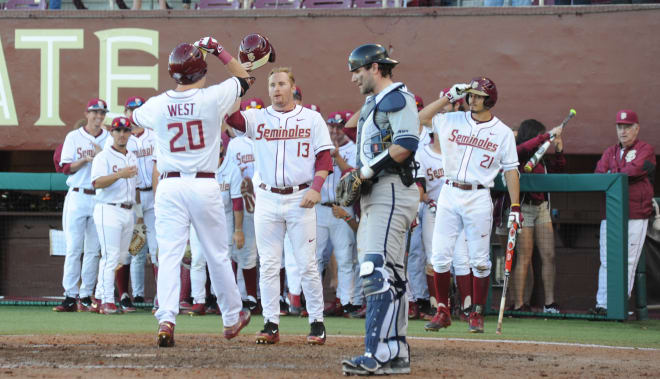 Senior right-hander Mike Compton pitched five strong innings, junior outfielder Gage West came off the bench to hit Florida State's first home run of the season, and the Seminoles stormed to a 19-1 season-opening victory Friday against visiting Rhode Island.
The Seminoles (1-0) cranked out 17 hits and took advantage of six errors by Rhode Island (0-1).
Compton, making his second career opening-day start, allowed just three hits and one run in a five-inning controlled start. The Seminoles were led offensively by West, who came off the bench to go 3-for-3 with 5 RBIs.
Leading Off
As is the case with many northern schools at this time of year, Rhode Island's defense left a lot to be desired on Friday. The Rams committed six errors, including three in Florida State's 10-run fifth inning.

But the Seminoles also did plenty of damage at the plate without any assistance from Rhode Island's fielders. Four different FSU hitters recorded three hits – center fielder Ben DeLuzio, third baseman John Sansone, shortstop Taylor Walls and left fielder Gage West.
As a team, Florida State recorded 17 hits against five Rams pitchers.
Martin said he was extremely pleased with the patience FSU's hitters showed at the plate. They drew nine walks and often did major damage in hitters' counts.
"To get 17 hits, we had to do some things right," Martin said.
From The Stretch
Even though he is entering his fifth season as a member of the FSU baseball team, senior righty Mike Compton admitted that he still had butterflies before Friday's season opener.

"Of course, Opening Day you're going to have those little jitters," Compton said. "I think players are probably more comfortable in like a regional or a super regional game than they are for Opening Day, just 'cause they've been playing for the whole season leading up to it."
Compton's nerves apparently didn't last long. In five innings, he allowed three hits and one run and faced just three over the minimum 15 batters.
Compton set the tone for a dominating performance by the Seminoles' pitching staff. When the senior left after throwing 67 pitches, relievers Alec Byrd, Jim Voyles, Ed Voyles and Chase Haney combined to throw four scoreless innings to close out the game.
FSU's pitchers combined to strike out Rhode Island batters 11 times while issuing just three walks.
The Rundown
As one of the fastest baserunners to ever play at Florida State, junior center fielder Ben DeLuzio certainly has the speed to be FSU's leadoff hitter this season. The question is whether he can improve his batting average and on-base percentage enough to put that speed to use.

DeLuzio hit .241 as a sophomore with a .345 on-base percentage. He struck out 47 times while recording 25 walks.
If Friday's season opener was any indication, DeLuzio could be ready for that leadoff role. Batting at the top of the Seminoles' lineup, the former third-round MLB Draft pick went 3 for 4 with three runs scored.
FSU's coaches originally were planning to use junior college transfer second baseman Matt Stephens in the leadoff role, but they decided to give DeLuzio and a chance and now will keep him there for the time being.
"We want to see how Ben handles that," Martin said. "We know that Henderson can hit first or second. If Benny can lead off and get acclimated, comfortable, then certainly we're going to go with that. … I'm gonna give him some opportunities to see what he can do from the leadoff spot."
Chatter
--> "It was kind of that bittersweet last Opening Day for me. But it was great to just get out there again … It was a great last Opening Day." – Mike Compton, fifth-year senior pitcher, who started the game and earned the victory on the mound.

--> "That was really neat, that he was able to get the big home run for us. He's been swinging the bat very well – not so much against lefties, but he hasn't been horrible against lefties. If Gage shows that he can handle lefties, then we've got a decision to make." – Head coach Mike Martin on junior outfielder Gage West's pinch-hit home run in the fifth inning. West, a left-handed batter who is platooning with switch-hitter Jackson Lueck, delivered a two-run double later in the inning.
--> "It felt good. It was a changeup. I waited back on it and swung … it was a good feeling." – Junior Gage West on his towering home run to right field.
On Deck
FSU and Rhode Island will play their second game of the series Saturday at 2 p.m. Sophomore right-hander Drew Carlton will start for the 'Noles.