Seminoles' bats go cold in 2-1 loss to College of Charleston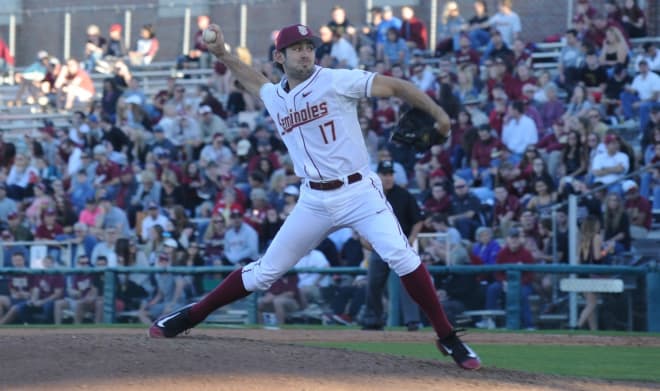 Sign-up for Warchant.com and get the best coverage of FSU recruiting and athletics (30-day free trial offer!)
Box Score: College of Charleston 2, FSU 1
The Florida State baseball team suffered its first loss of the season on Friday night as the Seminoles' bats went cold in a 2-1 loss to College of Charleston at Dick Howser Stadium.
FSU (3-1) had opportunities to do more damage offensively but left the bases loaded in the fifth and stranded runners in several other innings. The Seminoles finished with just three hits compared to eight for the Cougars (3-1).
Florida State's lone run came on an RBI single by freshman outfielder Jackson Lueck in the bottom of the eighth.
Here is more on the game from FSU Sports Information:
Lueck (1-1, 1 RBI) joined John Sansone (1-3, 1 run) and Darren Miller (1-2) as the only Florida State hitters with a hit on the evening.
Florida State got a solid performance on the mound from starter Mike Compton, who struck out six Cougar hitters in 5 2/3 innings. Compton (1-1) scattered six hits and allowed two runs, one earned, and two walks in his second start of the season.
Alec Byrd relieved Compton in the sixth, forcing College of Charleston into a grounder, before giving way to Tyler Holton. In three innings, Holton allowed just one hit and one walk while striking out two Cougar hitters in 45 pitches.
"It was a game in which their guy pitched very well and our guy pitched very well," said FSU coach Mike Martin. "They got a couple of key hits to drive in runs and while we hit the ball very hard, they positioned people very well. Our reliever did a great job of pitching a couple of innings of one-hit baseball, along with one walk, so it is something that you look at and say, 'Let's be ready to go tomorrow,' because there is no way that I can find anything to be critical about."
College of Charleston was led by hurler Nathan Helvy (1-0), who limited the Seminoles to two hits and three walks in 5 1/3 innings. Helvy gave up his first hit of the night in the fifth inning on a single by Sansone.
College of Charleston took the lead in the fourth inning when Jake Maziar dropped a single into left-center field, scoring Erven Roper from third. The Cougars added their second run in the sixth when an error at second allowed Roper to score on the play.
The Seminoles and Cougars will play the second game of the series Saturday at 1 p.m.
FSU will send right-hander Drew Calrton (1-0) to face College of Charleston's Bailey Ober (0-0).
-------------------------------------------
Talk about it with fellow 'Noles on the FSU Baseball Forum.