Seminoles finish season-opening sweep with 23-run outburst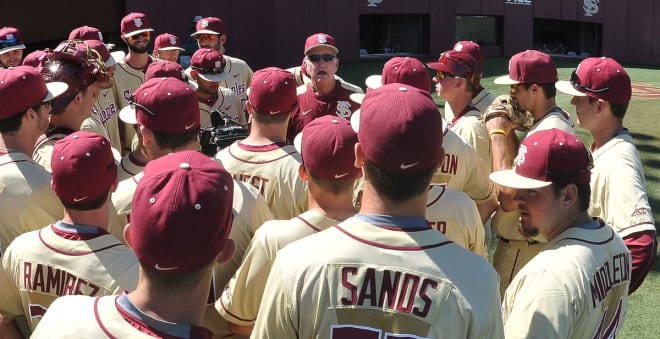 Sign-up for Warchant.com and get the best coverage of FSU recruiting and athletics (30-day free trial offer!)
* Sunday box score: FSU 23, Rhode Island 4
The Florida State baseball team completed its three-game sweep of Rhode Island on Sunday with a 23-4 victory that included 24 hits and eight extra-base hits. The victory, in front of 4,382 in attendance at Dick Howser Stadium, gave the Seminoles their 35th consecutive series victory on opening weekend.
Among the seven players with extra-base hits included Jackson Lueck (1-1, 2 RBI, triple), Hank Truluck (2-2, 2 RBI, 2 doubles), Taylor Walls (2-4, 2 RBI, 3 runs, double) and Gage West (2-3, 1 RBI, double).
Senior John Sansone started the extra-base hitting barrage with a home run over the left-field wall in the first inning. It was his second home run in as many days.
Freshman Donovan Petry, who went 3-for-5 at the plate with 3 RBIs, led the way for FSU (3-0) at the plate. He was one of 15 hitters in the Seminole lineup to have at least one hit.
Freshman right-hander Cole Sands also impressed the Florida State faithful as he allowed two hits, one run and one walk while striking out six in five innings.
"Sands showed good composure and he had all three pitches going, which was nice to see," Martin said. "Coach Mike Bell did a great job of calling the game to put (Sands) in good position to be successful and by virtue of that he was topping out in the 90s. That was a good overall outing for Sands."
The 'Noles capped off the weekend with a 50-20 edge in total hits and a 50-6 advantage in runs.
With a 3-0 advantage entering the third inning, due in large part to Sansone's two-run homer, Florida State put three more runners across the plate. The first run of the third came when Walls doubled to left to score Gage West from second. Two batters later, Dylan Busby singled to left to score West and the Seminoles scored their final run of the inning with a single by Petrey that brought in Darren Miller.
After a five-run fourth, the Florida State lead ballooned to 13-1 with two runs in the fifth.
Florida State is set to host College of Charleston this weekend, beginning on Friday.
-------------------------------------------
Talk about it with fellow 'Noles on the FSU Baseball Forum.