Spring tour checks in on Jeudy, Surtain, other Broward prospects
STOP No. 8: DEERFIELD BEACH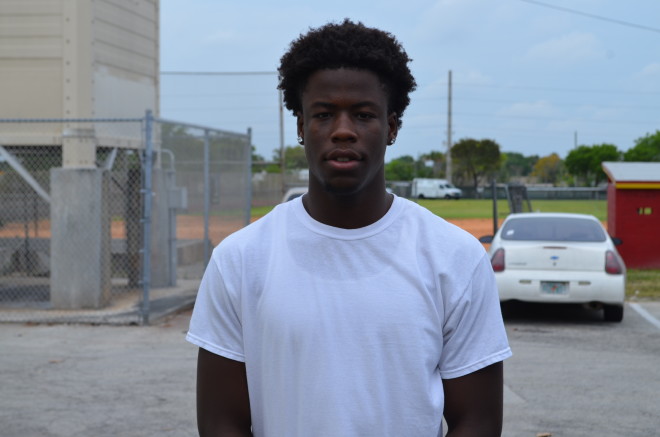 The next stop on our Spring Recruiting Tour is a visit to Deerfield Beach in northern Broward County, which is home to Rivals100 wide receiver Jerry Jeudy.
Jeudy is one of the top prospects in South Florida, and he spoke to Warchant about his interest in the Seminoles, his goals in spring practice and more. We also caught up with Deerfield Beach head coach Jevon Glenn about some of the Bucks' other young prospects who could be on FSU's radar.
Rivals100 WR has FSU moving up on his list
South Florida has long been fertile recruiting territory for Florida State, and Jimbo Fisher has only strengthened those connections since taking over as head coach in 2010.
One of the top prospects in that area this year is wide receiver Jerry Jeudy, and the 2017 prospect clearly has strong interest in the Seminoles. Jeudy has visited FSU twice this spring and plans another visit this summer.
Jeudy, who played previously at Monarch High in nearby Coconut Creek, has has the privilege of learning from some of the best receivers in the game, including former Monarch star Calvin Ridley and also Amari Cooper.
"I really studied my game about what he (Ridley) did, along with Amari Cooper," Jeudy said. "Calvin taught me a lot about route-running and how to get off the line against defensive backs. Small things that helped a lot."
Now Jeudy wants to pass along the things he's learned to his fellow teammates.
"There's a lot of competition out here with some of the young guys," Jeudy said. "We feel this team is going to be real good. I'm working with the younger players on the team to have them stay humble when the offers start rolling in. I've just helped them with route-running for the most part."
Jeudy recorded 28 catches last season for 345 yards and seven touchdowns. But he's also quite effective on defense, where the Bucks could use him as a cornerback this season.
"I play receiver mostly. I've worked hard on getting a little bigger, faster this season," he said. "I'm currently 6-foot-2, 180 pounds. I also will probably play some at corner, but I like receiver better because I have the ball in my hands and can make something happen. There isn't a big adjustment on defense at corner though."
When it comes to recruiting, Jeudy recently came out with a top 10 list, and to no one's surprise, Alabama, Miami and FSU all made the cut. Alabama and Miami have long been among his top schools, but the 'Noles are moving up after two spring visits to FSU.
"I hadn't visited there before. I really liked it a lot," the four-star receiver said. "Being around the players, surroundings and how they treated me there stood out. I felt comfortable with everyone there. I hung out mostly with Derwin James, who showed me around. He showed me the dorms, and they were really nice. I don't have any favorites, but FSU is moving up for me. There are one of my top schools right now."
Jeudy also got a chance to talk more with FSU receivers coach Lawrence Dawsey during those visits.
"We had some good conversations," Jeudy said. "He was showing me how I would be used in their offense -- more like an in-and-out receiver. Kind of the way they use Travis Rudolph. It's an explosive offense from what I've seen, and I like what I see so far."
Click here to read the rest of our report from Broward County, including Jeudy talking about his relationship with FSU receivers coach Lawrence Dawsey, when he will make a decision and more. Also, there's a full update with cornerback Patrick Surtain Jr. and a number of other emerging prospects. COMPLETE REPORT FROM BROWARD COUNTY
Earlier Tour Stops:
* Tour Stop No. 1: Jacksonville Trinity Christian -- Latest on Matthews; star emerges
* Tour Stop No. 2: Jacksonville Sandalwood -- Latest on Jennings, Speed
* Tour Stops No. 3 and No. 4: Sebastian River and Miami Central
* Tour Stop No. 5: Pembroke Pines Flanagan -- Checking in with Stanford Samuels
* Tour Stops No. 6 & 7: Fort Lauderdale (Wright, Grimes, more)
-------------------------------------
Chat with other Florida State fans and get the latest recruiting info on our Premium Recruiting Board.